Services for hauliers
The company Autostrada Brescia Verona Vicenza Padova pays particular attention to hauliers. We respect the work of hauliers, which is why we are dedicated to providing them with a tailored service. We are also committed to constantly guaranteeing safety and comfort along our motorway.
Traffic restrictions
WINTER EQUIPMENT OBLIGATIONS
The sections of A4 motorway between Brescia Ovest and Padova est and of A31 motorway between Badia Polesine and Piovene Rocchette are characterized by frequent ups and downs that, in the winter season on the occasion of snowfall and low temperatures, can cause considerable inconvenience to the circulation despite the operations to prevent the phenomena.
Therefore, a special order has been issued which requires, in the aforementioned sections, the use of winter tires or owning snow chains or other approved non-slip systems in the period from 15 November to 15 April. Signs have been installed at the toll gates and along the motorway axis of the two Arteries.
For more information on traffic restrictions please contact us.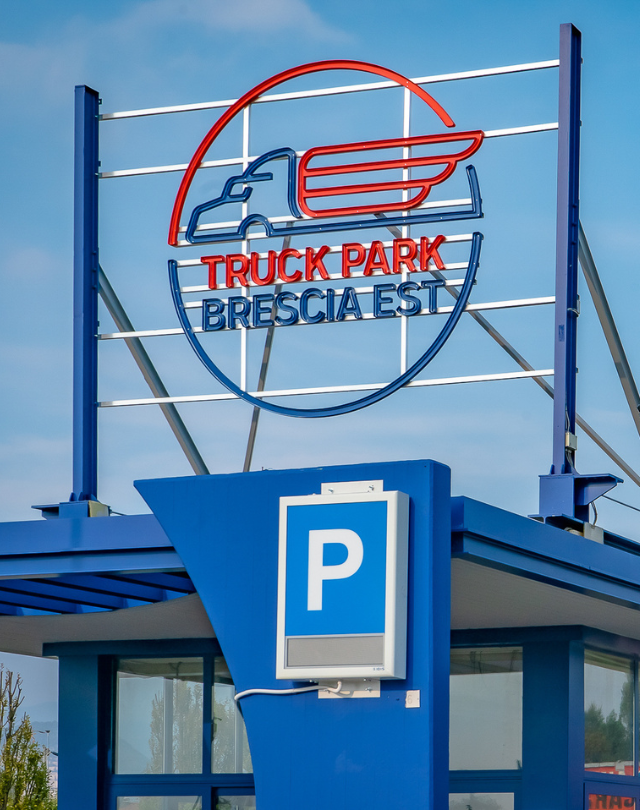 Brescia Est Parking Area
Truck Park Brescia Est is in a strategic location: situated at the Brescia Est motorway exit, next to the A4 Motorway (Milan-Venice) and the European Corridors no. 5 and 8, and just a stone's throw away from the city of Brescia and the airports of Montichiari, Verona and Bergamo. This is the ideal place to rest during long journeys and for compulsory driver breaks.
Exceptional transport
Transport classed as "exceptional" (art. 10 of Italy's New Highway Code), represent an important part of the transport system as they are widespread and have a big impact on safety and road conditions. The Company has a dedicated department that grants specific authorisations to operators who file requests for exceptional transits or transport along the stretches of motorway and ring roads falling under our responsibility and/or on the interconnected network.
Exceptional transports or vehicles, with speed limits of 40 km/h or exceeding 35 meters in length or 3.50 meters in width, may circulate exclusively during the night between 9.00 pm and 6.00 am. Furthermore, there is a total transit ban for all exceptional transport from 06.00 to 10.00 on Monday and from 16.00 to 21.00 on Friday.
Restrictions (*) on Transit for Exceptional Transport In Force on the A4 Motorway "BS-PD" - A31 Valdastico - Ring roads and Stretches of Motorway Falling Under our Responsibility
Width
Other criteria
Ban
Time
Notes
From
To
Up to 3,5 m
Length < 35m
Monday
06:00
10:00
**
Friday
16:00
21:00
Length > 35m
From Monday to Friday
06:00
21:00
**
Over 3,5 m
From Monday to Friday
06:00
21:00
**
*In addition to the bans stated on the annual calendar issued by the (Italian) Ministry of Infrastructure and Transport (Italian Decree Law no. 285 dated 30/04/92). Download the PDF to know the calendar.
**These restrictions also apply to the stretches of the A4 motorway Milan - Brescia, Padua - Venice and on the A21 between Piacenza and Brescia.